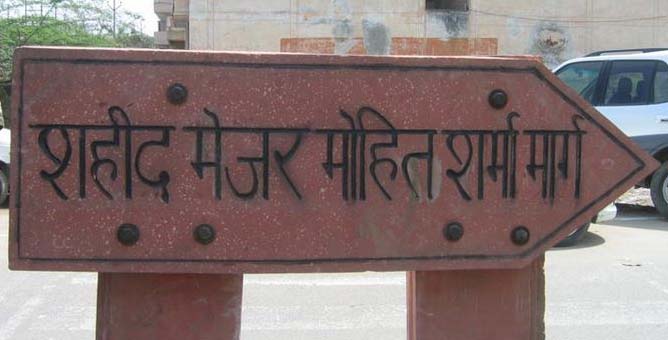 The Road connecting Loni Road and GT Road in Rajendra Nagar was named as"SHAHEED MAJOR MOHIT SHARMA MARG".The inauguration function was organized under the aegis of Major Mohit Sharma, Ashok Chakra, Sena Medal Memorial Trust and organized by Rashtriya Sainik Sanstha in collaboration with Bharat Vikas Parishad, Sahibabad.

The road was inaugurated by Major Mohit Sharma's grand father, Pt. Dayanand Sharma.
The chief guest of today's function was ADM(city) Mr. Sunil Kr. Srivastava and presided by Col. TPS Tyagi of Rashtriya Sainik Sanstha, Gaziabad.
The program was well coordinated by Mr. Brijesh Jadon from Bharat Vikas Parishad, Sahibabad. Among the important people who attended this function were Mr. Amarpal Sharma on behalf of Akhil Bhartiya Brahmin Samaj, S.D Agarwal from Manav Kalyan Samiti, Yashpal Luv from Lions Club, Mr, Kulbhushan, Vipul Gupta and Harish Garg from Vaishya Agarwal Sabha, BS Sahariya, Sh. S.K. Sharma (IPS).
Mr. B K Verma, Shaidi recited a poem on Major Mohit Sharma which was made all the attendees very emotional.Master Moksha Gulati, 4 years, sang and played a patriotic song on the harmonium.Miss Vrinda Vyas also presented a patriotic poem on the day.